The public deserves digital peace of mind.
We are an international, industry-led consortium of web data collectors focused on strengthening public trust, promoting ethical guidelines, and helping businesses make informed data aggregation choices.
Ethical Web Data Principles Public Comment Period Announcement
From March 17th through April 28th, 2023, we are collecting formal public comment on Ethical Web Data Principles 1.0.
Please help us chart the next evolution of the industry's formative principle document.
Your comments will help us as we move on to build industry accountability measures.
Ethical Web Data Collection Initiative (EWDCI): Bringing Together Web Data Collectors to Build Public Trust
The web data collection and aggregation industry is still young, and still growing. As with any industry in its early stages, those working in this field have a one-time opportunity to shape how it is developed and perceived. This is why the EWDCI is dedicated to defining positive and beneficial uses of the important abilities and potential of data collection and aggregation at scale. 
What we do:
Advocate for responsible web data collection, including any gathering of personal data

Educate and guide the industry on the use of ethical resources and tools used in web data collection

Foster consumer confidence in data collection through transparency and accountability

Enable commercial innovation

Promote online safety
Find our more about EWDCI's mission, read the web data collection fact sheet. or jump straight ahead to downloading our Draft EWDCI Principles.
About EWDCI + i2Coalition
The Ethical Web Data Collection Initiative (EWDCI) seeks to foster cooperation in the web data collection and aggregation industry and leverage collective first-hand knowledge and insights to advocate for beneficial technical standards and business best practices regarding the aggregation of data. The EWDCI is dedicated to serving as the voice of the industry, collaboratively strengthening public trust in the practice of Data Aggregation, promoting ethical guidelines, and helping businesses make informed data aggregation choices. 
The Internet Infrastructure Coalition (i2Coalition, i2C) is the leading voice for web hosting companies, data centers, domain registrars and registries, cloud infrastructure providers, managed services providers, and related tech. The i2C works with Internet infrastructure providers to advocate for sensible policies, design and reinforce best practices, help create industry standards, and build awareness of how the Internet works. The i2Coalition also spearheaded the creation of the VPN Trust Initiative, which determined and promoted best practices for that vital industry.
EWDCI Guiding Principles
Members of the Ethical Web Data Collection Initiative have been working on a set of guiding principles that will inform our efforts. These built upon four main pillars:
Legality

Ethics

Social Responsibility

Ecosystem Management
Download our recently release Draft EWDCI Principles, and be on the lookout for a public comment period on this document coming soon.. 
If you would like to become part of this discussion, we invite you to join us as a founding member by contacting i2Coalition Membership Director Hilary B. Osborne at [email protected].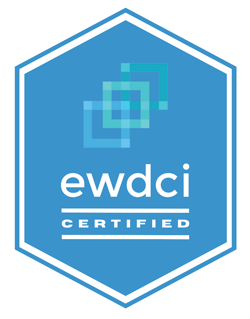 EWDCI Certification: A Signal to the World
Those pledging to work within this ethical framework are awarded the EWDCI Certified designation to display on their websites. This informs their partners, customers, and the public that they adhere to these agreed-upon principles and the highest degree of ethics when collecting public web data; while also further advancing the industry's best practices and accountability. If your company works with web data collection, you can earn the EWDCI Certified designation by contacting Hilary Osborne at [email protected].
Participating Members and Brands
If you work in the field of data collection and are dedicated to establishing best practices, we invite you to join us and help shape this initiative's early efforts.
"The EWDCI aims to reach companies with this message of ethical data aggregation, as well as to educate consumers at large and legislators worldwide in the interest of informed, empowered action. This will promote industry-led stewardship of important—and already widely adopted—technology in the interest of solving any present challenges and setting the industry up for forthcoming success."
— Christian Dawson
    Executive Director, i2Coalition